Google is showing his respect to Cardano (ADA).
Cardano is one of the top cryptos of the world currently sitting at seventh place in the list of top global cryptos has managed to get an essential position in the Google search engine.
Ada holders, traders, and investors can now quickly calculate the exchange value of their ADA holdings in both USD and BTC because google adds Cardano (ADA) to US Dollar (USD) conversion rate.
Other than USD, you can now convert ADA to any currency you want on Google, like GBP, EURO, Swiss Franc, along with more than 50 other currencies.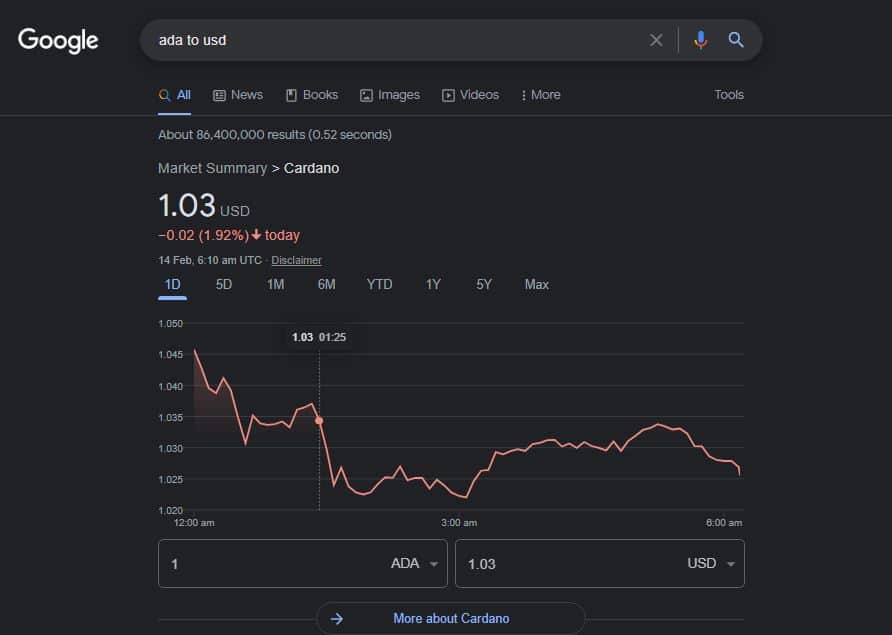 Such a google rate conversion is only available for some largest cryptocurrencies like Bitcoin and Ethereum. This shows how quickly Cardno defines himself as the top altcoin that is evolving rapidly and bringing innovations to the crypto planet.
The CIP-35 Proposal 
Tim Harrison, director of IOHK Communications, disclosed that the core developers' team had made a new proposal dubbed CIP-35 for the Plutus smart contract platform.
The proposed upgrade will usher in improving Plutus core and interface pages.
According to the CIP-35 proposal, a more explicit structure will enable smart contract developers building on Cardano to change and upgrade their codes in time.
With CIP-35, shortcuts will be added to the system to enable developers to make changes and upgrade their codes by taking shorter routes.
Furthermore, the CIP-35 proposal will also bolster speed for new updates in the Plutus smart contract, further enhancing transaction processing time for all protocols connected to the network.
– Advertisement –